Device Agnostic eLearning
Today's learner can't be confined to classrooms or desktops. They can and should learn anywhere, anytime. This implies that learning delivery needs to be platform and device agnostic. Edutech uses the principles of 'Responsive eLearning Design (RED)' to create eLearning courseware that is future-proof and device agnostic. We use HTML5, JQuery and CSS to deliver the same learning experience on mobile devices, laptops and desktops for users. Organisations benefit from our cross-platform expertise by being able to track mobile-based learning consumption as smoothly as they do desktop-based and laptop-based learning.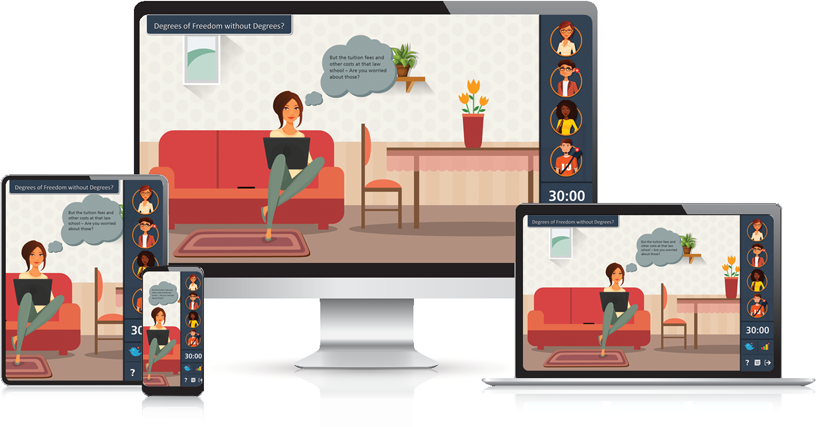 ometimes the pace of business activities and change necessitates that training programs have short turn-around times. Full cycle models of eLearning development, such as ADDIE, are inadequate for such situations, and courses developed in Adobe Flash tend to have longer timelines.
Edutech uses a Rapid ELearning Design approach when our clients need training developed in short time frames. The process is essentially Agile – a reiterative process that implements rapid prototyping.

We use authoring tools such as Adobe Captivate, TechSmith Camtasia, Trivantis Lectora and Articulate Storyline for rapid development. Visit our case studies to see some of our work in this area.
Look at some of our work in this area.


Blended Learning Solutions
Recognising that organisations the world over benefit most when their learning strategies are a blend of e-Learning and facilitator-led training, Edutech leverages its deep knowledge of learning theories and frameworks and a portfolio of world-class technology solutions.
Design Approach
Our approach to blended learning design is based on the established learning theory that people learn progressively through these three forms of knowledge Edutech uses this framework of the forms of knowledge to determine how to blend self-paced e-Learning and Instructor Led learning in a course. Consider this framework we created for a banking client:
Self-paced e-Learning for delivering declarative knowledge and some of the procedural knowledge that's easily codified.Instructor Led and self-paced learning for handling situational knowledge and some of the procedural knowledge, which requires immediate and frequent interactions between the instructor and the learners.
Edutech puts the facilitator-led event at the center of the framework and designs content modules and assessments to optimise the benefits of the solution. Our solutions always comprise Pre-Event, Live Event and Post-Event experiences and interactions to optimise the learning benefits.
Instructional Materials for the Facilitator Led Event
Our full package of training materials can be used equally effectively in physical classrooms or virtual classrooms.
Plan


Vision

Assess


Improve & Align


Monitor & Adopt

The term Flipped Classroom describes any class structure that provides pre-recorded lectures followed by in-class exercises, group activities, real-time feedback delivered through automated response systems. As implementation partners for world-leading technology providers in learning such as BlackBoard, Turning Point and Echo360, Edutech is uniquely placed to enable high tech flipped classroom environments. For example, our instructional design consultants may recommend that declarative knowledge be disseminated through pre-class content strategies and virtual or physical classrooms be used to disseminate procedural and situational knowledge in the manner shown.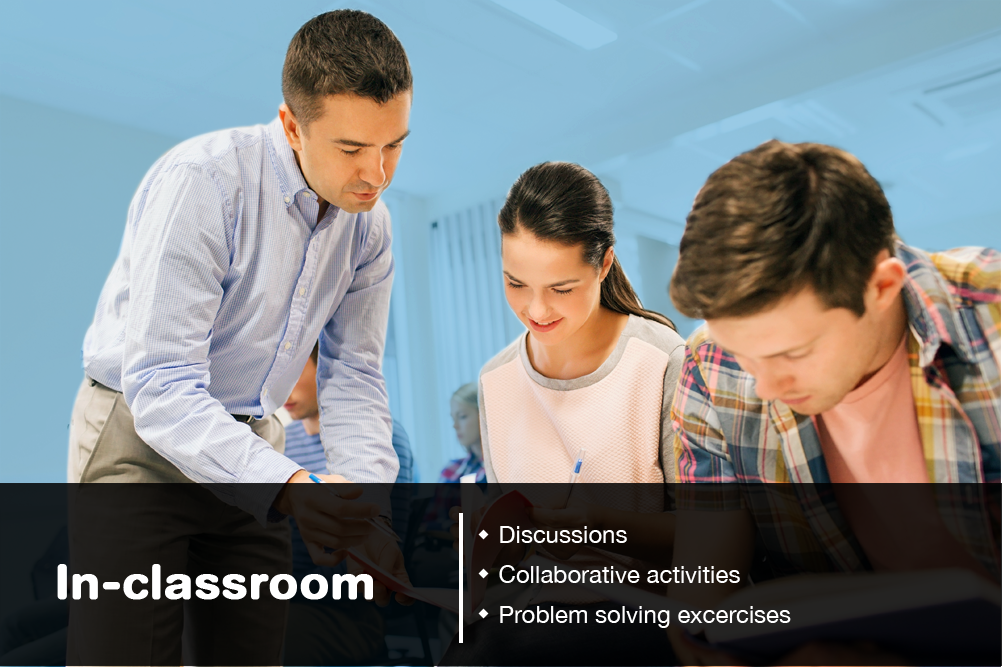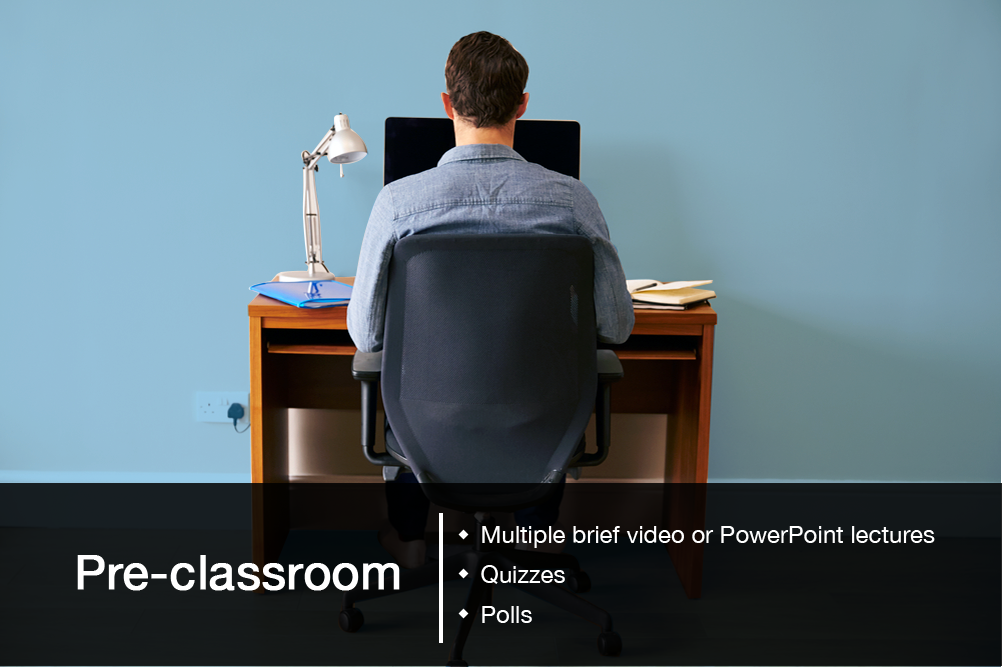 "A picture speaks a thousand words, and a video clip many more". Video is a preferred medium for imparting training on subjects such as handling and maintenance of machinery and gadgets, or face-to-face communication etiquettes.
Edutech can create video-based eLearning courses for its clients. The services we offer include:
Video shooting, editing, and post production
Creation of complete video-based eLearning courses that can also be deployed through mobile platforms.
Look at some of our work in this area.
Rooted in principles of Situated Learning Theory and Situated Cognition, the scenario learning solutions we design are distinctive owing to these four characteristics.
The contexts of the scenarios are realistic enough to engage the learners.
They challenge the learners without causing cognitive overload.
They keep learners focused on the learning goals, not the information itself. They are highly interactive — learners learn by doing, rather than by reading.

Edutech can evaluate learning solutions of other vendors and design unbiased evaluation frameworks and rubrics for clients.
At the heart of the design is Dr. Donald Kirkpatrick's Four Level Evaluation framework, depicted below, and the science of learning analytics, the extensive use of learning related data to improve learning design, delivery and outcomes.

Did it impact the bottom line?
Level 4: Bottom Line
To measure changes in financial outcomes (such as positive ROI or increased profits) or changes in the influencing variables, Edutech's methods of choice include the two survey designs already used in Level 3 and the interrupted time series, which provides the decisive edge to help demonstrate RoI from training.

Did their work behaviour change?
Level 3: Behaviour
Using established statistical methods such as One-group design survey and Non Equivalent Control Group survey, our Level 3 evaluations effectively measure transfer of knowledge, skills, and attitudes from the training context to the workplace.

Did they like it?
Level 1: Reaction
Did they learn?
Level 2: Learning
To conduct Level 1 (Reaction) and Level 2 (Learning) evaluations, Edutech uses Learner-based and Manager-based methods.
Learner-based evaluation
We conduct this evaluation in two stages: Post Event and On-the-Job.

Edutech uses the automated tools available with most LMS to have learners respond to questions in the Post Event evaluation. 5-point Likert scales are the most preferred scale of capturing responses in Level 1.
Manager-based evaluation
Edutech believes that a key driver to supplement the On-the-Job evaluation by the learner is the simultaneous evaluation through the learner's manager. This Manager-based evaluation is centered on estimates of impact on the job, business results and on-the-job environment.
About Us
Founded in 1991, Edutech is a global company based out of Chicago, Illinois. We provide learning solutions across corporate, governments and academic institutions. We assist our clients to enhance performance and optimize talent by providing cutting-edge learning and development solutions. Our customers receive a personalized learning environment that fosters richer learning experience and successful learning outcomes. At any given point of time, over 500 customers and more than a million users around the world use our solutions.
Contact Information
Edutech USA, Inc.
5 Revere Drive Suite 200,
Northbrook
IL 60062
Tel: +1 630 310 8538
Fax: +1 630 390 2838 info@edutechusa.com